Well, it's not called a sport utility vehicle for nothing. Thanks to new advances in Toyota engineering and retuning of the powertrain and performance options, this otherwise practical and mild-mannered 2017 RAV4 is full of sporty power and pretty fun to drive for its size.
While the gas-powered RAV4's 2.5-liter four-cylinder engine maxes out at just 176 horsepower, it does offer more standard power than many of its top rivals--including the Ford Escape, the Nissan Rogue, the Subaru Forester, and the Chevy Trax--and it knows how to use it.

Dual Variable Valve Timing with Intelligence technology (the process of controlling the flow of intake/exhaust gasses) in the RAV4 engine helps to optimize performance and fuel economy simultaneously, giving you a sportier and more athletic driving feel without knocking down your efficiency.
A six-speed EC automatic transmission comes standard on all non-hybrid RAV4 models, and available steering-wheel-mounted paddle shifters let you seamlessly change gears manually, control performance at your fingertips, and embrace all the fun of stick shift--just without the stick.
2017 RAV4 SE models (gas) come standard with a thrilling sport-tuned suspension, accented with blue shocks at the front, to provide a smoother and sportier experience in tight corners and on flat straightaways.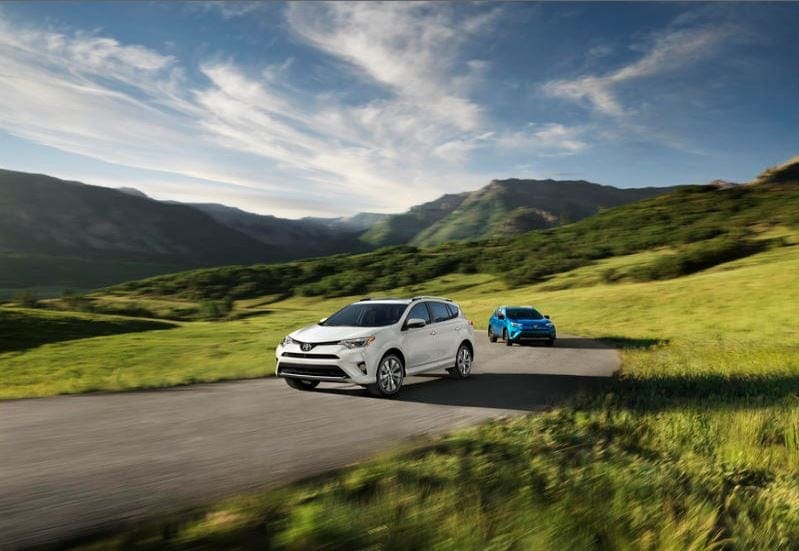 And for those looking for a purely athletic vibe, the 2017 Toyota RAV4 does offer All-Wheel Drive with Dynamic Torque Control for ultra-capable all-road performance.
So the answer to the question "is the 2017 Toyota RAV4 sporty?", in our opinion, is yes. But we'd love to hear what you think.
Come to Suburban Toyota for a test drive in the new 2017 model, and let us know your thoughts.