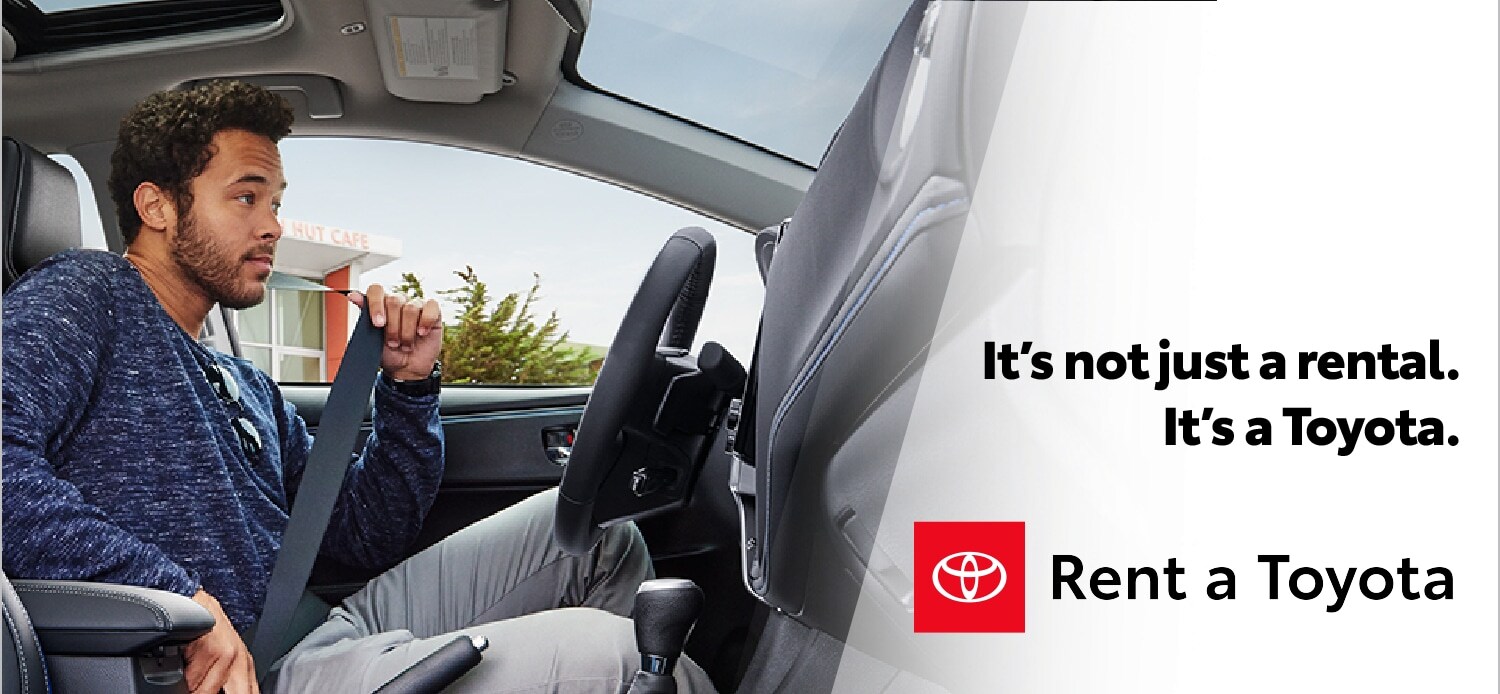 Toyota Rental Cars: Let's Go Places
Rent Toyota and you'll never go back. Whether you're headed out of town for a vacation, need a vehicle for business in a new city, or have your current car in the shop, you'll never regret a Toyota car rental. Our vehicles have all the power, sleek curves, and comfort you've come to expect from our brand, not to mention the latest and greatest technology to make the drive that much more pleasant and convenient. It doesn't matter if you want to rent a Toyota car, a spacious SUV, a rugged truck, or a gas-saving hybrid - all that's available and more. Looking for a new car to purchase and not completely sure what kind? Experience the luxury of your Toyota car rental without any of the risks, so you can be sure you select the vehicle that's best for you. Suburban Toyota located in Troy can assist you with all of your Toyota rental car needs.
Need a Toyota for a day, week or month? No problem! We've got you covered.
Rates starting as low as $42.95 per day!
Please fill out the form below or call/email Rob Stunda
RENT A TOYOTA POLICY
*Rates subject to change. Customers must provide a current, valid U.S. driver's license, proof of full coverage insurance, and be at least 21 years of age to drive a rental car. Customers must also provide a major credit card or debit card for fuel, mileage or cleaning charges. Deposit required when using bank debit card. Rental cars are limited to the United States ONLY and prohibited from being driven into Mexico. Customers are responsible for any vehicle damage or other costs while the rental vehicle is in their possession, and are expected to return rental vehicles in the same condition they received them except for ordinary wear. Rental vehicles being paid for by Toyota Warranty, Service Department, Sales Department or another entity DOES NOT INCLUDE FUEL used by the customer. Customers must return the vehicle with a FULL FUEL tank. A charge of $6.00 per gallon will be assessed to customers returning vehicles less than full of fuel. SMOKING in rental vehicles is PROHIBITED, and a $100.00 cleaning fee will be charged if necessary. Transporting animals in rental vehicles is prohibited, and a $100.00 cleaning fee will be charged if necessary. Rental vehicles being paid for by a third party must be returned within 24 hours of vehicle repairs being completed or customers will be charged the retail rate for each additional day the customer retains the rental vehicle. In
MI
our fuel charge is $6.00/gallon $100.00 cleaning charge for pets.
Rent a Car at Suburban Toyota of Troy
As a Toyota dealership, we are proud to offer a vast selection of Toyota models available for rent. Whether you're heading out on a business trip, have a car out for repairs, or planning a vacation, our selection of Toyota rental cars could be perfect for you. You will find we carry all the latest Toyota models, allowing you to enjoy cutting-edge features and capabilities.
Top Toyota Models for Rent
The Toyota brand has one of the most impressive profiles and consistently is recognized for reliability, style, and innovation. If you're looking for a car, truck, or SUV that you can count on, our selection of new Toyota models could be the perfect option for renting. With sleek designs, highly sophisticated technology, and impressive capabilities, renting a new Toyota is an excellent option.
When you consider renting a new Toyota with us, you will find everything from family-oriented minivans to highly efficient commuter cars. With so many options to choose from, you can find the perfect match for your plans.
Some of the popular Toyota models available for rent include:
Camry
Sienna
Tundra
RAV4
4Runner
Toyota Features
You can rent a new Toyota and reap all the benefits of the cutting-edge technology and amenities. Many of the recent Toyota models come with the innovative Toyota Safety Sense™, a highly sophisticated driver assistance safety suite. With state-of-the-art driver assistance features, you can discover more convenience, awareness, and confidence behind the wheel.
You can also stay informed and entertained with the Toyota Entune infotainment system. The modern Toyota multimedia systems include smartphone integration, allowing you to pair your phone with the system to stay connected while on the go. Bluetooth® connectivity allows for effortless audio streaming, while Amazon Alexa voice recognition provides an intuitive interface.
Rent a New Toyota
If you're interested in finding a rental car that meets all your needs, enjoy our streamlined renting process by contacting us today.
Rent A Car Hours
Monday

7:00 AM - 5:00 PM

Tuesday

7:00 AM - 5:00 PM

Wednesday

7:00 AM - 5:00 PM

Thursday

7:00 AM - 5:00 PM

Friday

7:00 AM - 5:00 PM

Saturday

Closed

Sunday

Closed