Keep Things Running Smoothly
We know how important it is to keep your Toyota in proper working condition. Regular maintenance and oil changes provide protection for yourself, your loved ones and your investment. This is why our certified technicians use only genuine Toyota parts and fluids when we perform any type of maintenance. For oil changes, we use Genuine Toyota Motor Oil and Genuine Toyota Oil Filters that are specially formulated to keep your Toyota running at peak performance. If your Toyota is due for an oil change, schedule an appointment with our Toyota Service Center at Suburban Toyota of troy today!
What Makes Synthetic Oil Different?
Cost Effectiveness

From a quick glance, synthetic oil changes are simply more expensive, but what makes the difference? Synthetic oil changes can typically run $20 to $30 more than a conventional oil change, but in the long run, they can actually save you money!

Fuel Economy

Synthetic oil can help improve your Toyota's fuel economy by half a mile per gallon of gasoline, which adds up over time. A vehicle that normally achieves a base 20 MPG can save you up to $36 after 10,000 miles, assuming gas costs are $3.00 per gallon. With that extra $36 in your pocket, you could treat your Toyota to a synthetic oil change for no extra cost and enjoy the benefits that it offers!

Protection

By choosing to equip your Toyota with our low-viscosity 0W-20 oil, you can expect better engine performance, improved fuel economy and reduced engine deposits from your Toyota. Thanks to the uniform lubrication and reduced friction that our specially crafted synthetic oil provides, your engine will be better protected, operate better in extreme conditions and need oil changes less frequently.



Make an Inquiry
* Indicates a required field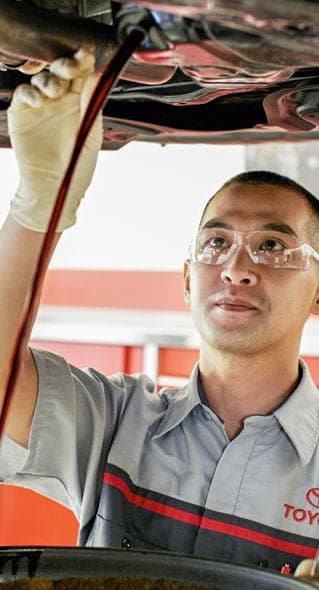 Hours
Monday

7:00 AM - 6:00 PM

Tuesday

7:00 AM - 6:00 PM

Wednesday

7:00 AM - 6:00 PM

Thursday

7:00 AM - 6:00 PM

Friday

7:00 AM - 6:00 PM

Saturday

8:00 AM - 2:00 PM

Sunday

Closed
Performing your Toyota oil change at factory recommended maintenance intervals is a great way to keep your Toyota running great and maintain its value.  At Suburban Toyota of Troy we use Genuine Toyota Motor Oil formulated to help protect against corrosion, prevent foaming and maintain proper application of oil on cylinder walls.
Need an oil change for your Toyota? Our Toyota-trained technicians right here in 
Troy 
at 
Suburban Toyota 
can quickly perform this service for you.  Schedule an appointment with 
Suburban Toyota of Troy Today!

Own a Scion? Your Scion will receive proper care by trained technicians using Genuine Toyota Parts